Okay, this marks my first entry in a series in which I discuss metal bands that do not get the recognition they deserve and bands that need to be known. And no other band deserves this than the Finnish heavy metal band Tarot.


Tarot has been around for quite some time dating back to the early 80s, then being called "Purgatory". They were formed by Zachary (guitars) and Marco
Hietala
(vocals and bass), who are still currently in the band. Eventually, the band changed their name to Tarot because the record label wanted them to change their name for some unknown reason.
Tarot plays traditional heavy metal music following to the likes of Iron Maiden,
Dio
, Black Sabbath, Judas Priest, and so forth. Since their beginnings, they have always stuck to this style despite the changing of musical trends in the early 90's and have never seriously altered their style over the years. Eventually, they would pick up on some of the modern power metal elements of today. Even so, you know it's Tarot as soon as you hear their explosive riffing and Marco's excellent voice.
Speaking of Marco, he is perhaps the most underrated vocalist metal has to offer! How this man NEVER gets talked about is beyond me! He takes the influence of metal legends like Rob
Halford
and Ronnie James
Dio
and from that is able to create his own unique and distinctive metal voice. He also has great bass sound and his skills are good in that respect too! Marco also sings and performs in many other bands/projects as well such as
Nightwish
, ex-
Sinergy
, Northern Kings, and so on. The man not only has a set of godly pipes, but is able to perform in multiple bands too. A very talented person indeed!
His brother, Zachery, is another person worth mentioning. His guitar skills are very underrated and undermined too. While not the most technical guitarist ever, he still is able to pull off some creative sounds on his guitar and some very excellent sounding leads! He also plays guitar in the Finnish symphonic metal band,
Marenne
.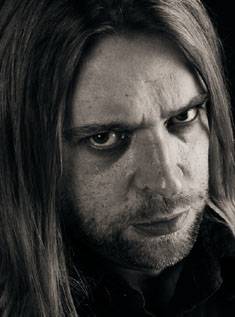 Janne
Tolsa
is the keyboardist for Tarot who first appeared on their third album, "To Live Forever". While replacing their other guitarist,
Mako
,
Janne
brought a new sound to Tarot and with this gave them more distinctiveness as a group. He also plays keyboard for the Finnish symphonic death metal band Eternal Tears of Sorrow and for symphonic metal band
Marenne
with fellow band mate Zachary
Hietala
.
Their sampler/vocalist Tommi
Salmela
also has an important role in Tarot. Since his arrival in 1996, he has been important for their sound and has even taken over the role for vocals when needed for Marco. On their albums, he sounds great in unison with Marco. He sounds amazing live as well if you watch Tarot's live DVD "Live Undead".
Pecu
Cinnari
, who has been with the band since their first album, "Spell of Iron", is their drummer and even he can compete with the best of them too in metal. His influences go back to the old days of metal to drummers like Cozy Powell (Rainbow), Randy Castillo (Ozzy Osbourne), and Alex Van
Halen
(Van
Halen
).
If you have not heard Tarot yet, you need to listen for yourself their own brand of heavy metal music! They are seriously one of the most underrated bands of all time and if it weren't for
Nightwish
, I would have had no idea who they were! Tarot is one the biggest pioneers of Finnish metal for many years to come and deserve more recognition for what they do. Their eighth studio album, "Gravity of Light", is going to be released this year and we Tarot fans are very excited! For anyone who is into traditional heavy metal done with style, then Tarot is for you!

Rock on! \m/