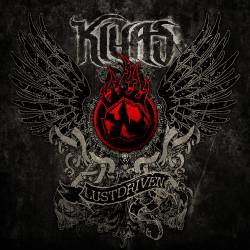 So the wait is finally over! The new album from one of my favorite bands entitled "Lustdriven" by Kiuas is finally out. Without a doubt, Kiuas is one of the most unique power metal bands around, mixing styles like folk, thrash, and even death metal into their music. After three solid albums, this band has proven that they indeed can compete with the best around in their genre as they have a sound that no one else possesses. With their new release "Lustdriven", they have once again proven that they are a force to be reckon with!
One of the most noticeable factors with this release is the improvement of vocalist Ilja Jalkanen. I have always felt that his voice was unique and powerful for the power metal genre. On this album he has seemed to have a much better tone and uses his style much better than he has on the previous albums. His maturity and experience can be heard on songs like "Summer's End" or "Lights are Many" where he sings softer but has a better understanding of how to use his vocals. So Ilja as a whole is sounding better than he ever has!
"Lustdriven" also keeps the same type of instrumentation present. Guitarist Mikko Salovaara keeps his signature style on guitar with his excellent shredding and sweeping skills while keyboardist Atte Tanskanen continues his assault on the keyboard with many excellent piano melodies and solos throughout the album. The drumming, provided by Markku Näreneva, is as chaotic as ever, and the bass guitar work done by Teemu Tuominen is as fast and driving as needed in a band like this.
With everything that makes Kiuas great, there is a noticeable difference on this release. As opposed to the first three albums, "Lustdriven" goes away a little from the pagan themes and focuses on humanity and lust. While this may be hard to get used to at first, I think this is a nice little change for the group to experiment and try different concepts. Like I said during the "Century Child" review, doing the same thing on every album can get a little tiring.
So now here is my song by song review of "Lustdriven":
1. "Kiuassault": With a name like "Kiuassault", expect something big and powerful! And that is exactly what this song is! In a typical Kiuas album, this one follows a great line of exciting and exhilarating fast power metal album openers! A catchy chorus along with plenty of fast and melodic guitar and keyboard work is what Kiuas is good at doing and this is exactly what this song provides! 4/5
2. "Cry Little Angel": Though not as strong as "Kiuassault", this song provides plenty of moments that are very typical of Kiuas with another catchy chorus section and plenty of cool guitar work that we would expect out of Kiuas. Not the strongest song on the album, but definitely worth a listen. 3.5/5
3. "Of Lust, Love and Human Nature": A very dark song with plenty of nice riffs, creepy piano, and hooks throughout. You can see Ilja's improvement on vocals on this track. 4/5
4. "Aftermath": Much like "Race with the Falcons" or "Conqueror", the song starts out with a furious riff that really melts your face. The middle section of this song has Mikko playing his heart out as the song slows down with his solo and then it erupts back again with plenty of energy that will guarantee a head bang with this song! Very recommended for those looking for some good modern thrash/groove metal! 4.5/5
5. "Lights are Many": As stated above, this is a song that shows Ilja's vocal improvement and versatility with how he can sing. This is basically a rock ballad that can really be a radio hit the way it is structured. The middle breakdown section has one of the most moving and powerful piano solos I ever heard! It really is amazing. That alone really boosts this song even more. While boasting a radio-friendly song, it is a very nice song and Kiuas knows how to make it work. 4/5
6. "The Visionary": Starts right away with a bang! The intro is very powerful and epic as expected from a band like this. The song never lets up from there with very impressive progressive and symphonic sections. It is even provided with the typical Kiuas chorus to top it off. 4.5/5
7. "Heart and Will": Another impressive intro at the beginning of this song. While not the most impressive track on this album, it is another good listen. 3.5/5
8. "The Quickening": A nice mid-tempo song with an impressive piano/vocal intro. This song has an 80s rock feel to it in the way the riffs and melodies are written. Another very catchy and interesting song. 4/5
9. "Summer's End": An acoustic song. To me, this is perhaps Kiuas' best acoustic song written to date. You can really tell Kiuas has a strong folk influence, especially with a track like this. The outro is unexpected and interesting, but it works and it finishes the song with plenty of epic fun. One of the album's best songs for sure! Very recommended. 5/5
10. "Winter's Sting": This is my personal favorite song on the album. A very nice upbeat power metal song with an interesting switch from acoustic to electric guitar throughout. This song is very memorable and a great way to end the album! The guitar solo is also very impressive. It has this jazzy/bluesy feel to it which is what makes Kiuas unlike any other power metal band. One of my favorite Kiuas songs to date! 5/5
So that is my song by song review. So here are my thoughts:
Pros:
-Ilja's vocals have improved tremendously
-The instrumentation is impressive as it ever is
-Every song is catchy with plenty of hooks
Cons:
-The lack of pagan themes at times
-Some songs can seem a bit average
Once again this album proves why Kiuas is the rising future of power metal in Finland. The band is showing lots of maturity and growth as this is another very solid release with a lot of new elements and plenty of stuff that everyone can enjoy! This is a horns up for me as this album doesn't disappoint! \m/ This is another great release from a great band! Rock on!
Overall rating: 4/5